Description

TECHNO VECTOR 8 – A REVOLUTIONARY NEW WAY OF CONTACTLESS MEASUREMENT
Techno Vector 8 guarantees the safety of wheel disks and provides best operation speed: measurement of all the basic parameters is performed right after the car enters the measurement area.
TECHNO VECTOR 8 SMARTLIGHT – COMPLETE TOUCHLESS WHEEL ALIGNMENT SYSTEM
Techno Vector 8 performs measurements using controlled projection systems that provide a dynamic structural lighting of wheels.
Measurements unit project a dynamic pattern onto each wheel . High-precision industrial cameras coupled with the projection system form an Active Stereo Vision system, that provides a 3D image. This image is then processed by the computer to determine a precise position of the wheel.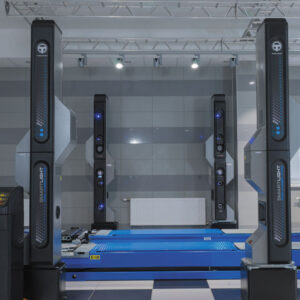 TECHNO VECTOR 8 VELOX – Quick Check Lane
Contactless wheel alignment test-lines.
Designed for contactless test-lines to allow fast drive-through control of basic wheel alignment parameters of the vehicle. This allows the technician to make a decision if an adjustment is needed